CRT monitors, LCD monitors and LCD cell phones can cause migraine headaches.
Cathode Ray Tubes (CRT)
monitors are the old fashion kind with a depth of 15 to 30 inches. Internally an electron gun shoots a beam of electrons to hit tiny phosphorous dots, or pixels, on the screen. Each dot glows when hit by electrons, but quickly fades so the gun has to "repaint" each pixel. Sixty times a second (60Hz) is usually the lowest "refresh rate". The brains of most people just smooth this flickering out so it looks like a solid image. For those at risk of headaches, their brains work faster and can "see" the flicker. The flicker is interesting and exciting to the brain - too exciting. The result is a cascade of electrical impulses overstimulating the brain.
To solve this problem with CRTs may be easy. You can tell your computer how fast to refresh the screen. In the best of all worlds, just set the refresh rate to 85 or 100Hz and you're done. But not all computers can generate a signal that fast and not all CRT monitors can handle that speed. In windows XP, right click on the background of the screen then select "Properties/Settings/Advanced/Monitor". Set the refresh rate as high as it will go. I made a
youtube video
to walk you through the steps. If Windows says your monitor is of type "Plug and Play" you may need to install a specific driver for your monitor to get higher refresh rates.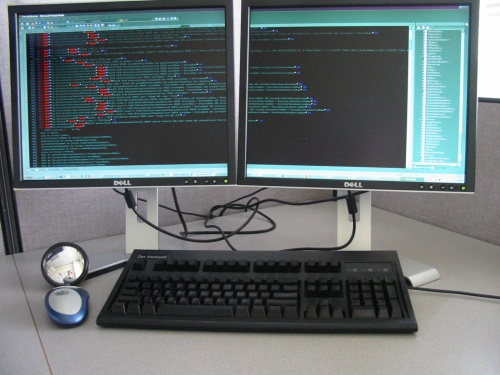 Liquid Crystal Display (LCD)
monitors work in a different way. Each pixel on the screen has a tiny red, green, or blue "filter" in front of the pixel. When the pixel's shutter is open the backlight shines through the filter and lights up the pixel. When the shutter is closed, no light gets out and the pixel is dark. The Windows XP/Windows 7 refresh rate means how fast this shutter can open and close. Unlike a CRT, this refresh rate on an LCD does not significantly affect headaches.
The problem may be with the backlight. In most LCDs today the backlight is a Cold Compact Flouresent Light (CCFL). The problem is that these CCFLs can cause headaches. I used to think it was because the frequency was too low, but according to Andrew's comment below, the refresh rate is in the kilohertz range - far too high to be a problem. Perhaps it is overlap between the multiple CCFLs in a monitor? Some LCDs have four CCFLs, some have 6. I will be doing some more research into this and update this post. [I did the measurements and the CCFL does indeed create light at low frequencies in the 60 to 70Hz range. See
http://www.fincher.org/Misc/HeadachesAndMonitors.shtml
for details.]
To solve this problem with your LCD screen you have to buy a new one. But predicting which LCD will work for you is almost impossible. I tried diligently with Dell, talking to many people and no one knew the refresh rate and no one knew who would know. For me the 20" Dell 2007FP gives me a headache quickly, but the 19" Dell 1908FP is fine.
Some LCD screens have an LED backlight - I think some of the Mac laptops do. LEDs can have a true constant on light which is the best thing. Sometimes LEDs are cycled on and off to save energy, but are cycled in the KiloHertz range so it is fine. You are probably much better off with an LCD screen with and LED backlight. Let me by commenting below if you have success with one or the other.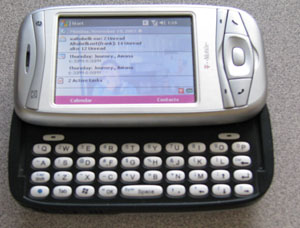 Cell Phones
with an LCD screen work the same way with a backlight. It took me months to figure out that my shiny, wonderful new T-Mobile MDA caused headaches. Here again you can't change the refresh rate of the backlight on cell phones, you have to eBay the phone and try again. And it's next to impossible to learn the refresh rate of the phone's backlight. You have to go to the phone store and stare at phones to see if they give you a headache. Your best bet is to find a phone with an LED backlight.
In summary, with CRTs you can set the refresh rate and hopefully get it to 85Hz or 100Hz, with LCDs and cell phones you have to look at them for a while and see if a headache starts.
Good Luck.