I am rebuilding my home windows xp system after a disk crash. While reinstalling Roxio Creator 2009 I encountered an interesting problem. Roxio would not start. I looked in the event viewer ("Start/Programs/Administrator Tools/Event Viewer") and found the following error message:

EventType clr20r3, P1 roxiocentralfx.exe, P2 4.12.0.0, P3 48a05348, P4 roxiocentralfx,
 P5 0.0.0.0, P6 48a05348, P7 17e, P8 12, P9 system.dllnotfoundexception, P10 NIL.

(The event log messages are really more like a
Greek Oracles
, something you only really understand, at your peril, afterwards).
I tried to install .Net 3.5 because another error hinted that a .Net library was missing. During the .Net 3.5 install I got the following less helpful error which did not have an event clue.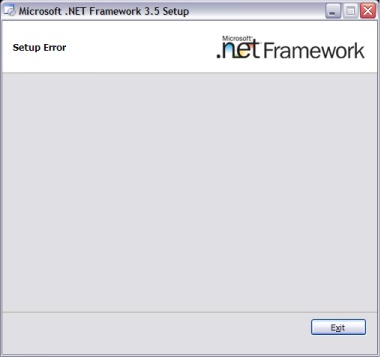 So I was stuck. Roxio won't start because of a missing .Net library and I can't install .Net because of a "Setup Error".
Realizing that Roxio Creator 2009 is only a shell over all these other programs, I tried to launch a sub-program, "Creator Classic", directly (Start/Programs/Roxio Creator 2009/Applications/Creator Classic". It did run and immediately asked to download patches from the mother ship. After those patches were installed I tried lauching the main Roxio Creator again - and it worked.
No rhyme or reason or understanding here, just trying random things, but that's what often works with Windows.